A hardy crew was on hand to move the Opera House Cairn on Tuesday, September 5/17. Thanks to David Prosofsky for the equipment to do the job and to Craig Evashenko for placing it on your property which is the site of the original Opera House and therefore a very fitting place for it to stay!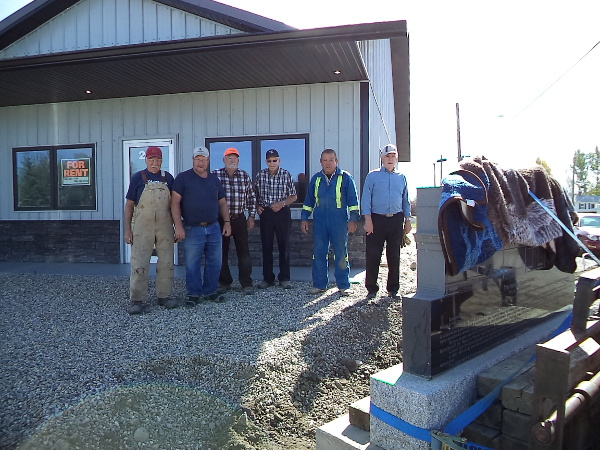 On hand (L to R) were: Ron Earis, Graham Perry, Jim Devant (Graham Perry's brother-in-law from Texas!), Punch Remmen, David Prosofsky and Wes Beaumont. It is determined fellows such as these that will keep us from forgetting our history.
From 1914 to 1968 the Opera House was the most important structure in Hanley and occupied that position in the Town's history. In 1910 the Town Council decided to proceed jointly with the RM of Rosedale to build a Town Hall and Opera House. This brick structure was to be a statement of the permanence these pioneers felt for their little town of the vast prairie. By late 1912, the building was underway and on October 1, 1914 its doors opened for the first time.
The building became vacant after completion of the Centennial Community Centre in 1968. In 1979 an Engineering study was conducted on the history and condition of the building to determine that the structure was unsafe and beyond the point of repair or renovation so the building was demolished.