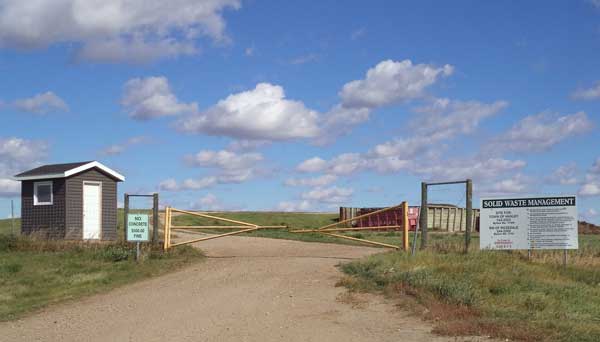 The town and R.M. have a fully equipped fire department with two trucks and a rescue van.
The department is manned by volunteer firefighters and first-responders.
Water and sewer services have been in town since 1962 with upgrading done during 1982 through the piping in of a steady water supply from a well and Brightwater Reservoir.
In December 2011 the Town completed the connection to the Dundurn Rural Water Utility and treated water from the City of Saskatoon began flowing into the Town.
The RCMP serves the community with a Community Detachment office located at 400 Brand St. in Saskatoon.
Garbage and recycling pickup is done on alternate Mondays through a contract with Loraas Disposal. The Town contracts with Loraas Disposal/All Green Recycling for garbage pickup and in the collection of recycled material in the community.
SaskTel's DSL High Speed Internet network currently serving the community of Hanley has been upgraded to provide access to increased speeds of up to 10 Mbps with the launch of their High Speed Advanced service effective June 25, 2014.
Misc. Services Links:
Sasktel
Sask Power
Sask Energy
Internet
Water / Sewage / Solid Waste & Transfer Station
Hanley Drinking Water & Sewage

2022 Notice to Consumers – Drinking Water Quality and Compliance – Hanley
Sask H20 publishes all the information on the various water systems throughout the province and these reports are available to the anyone. To view the reports for the Town of Hanley's water system, click on: Sask H20 Water Reports Choose which report you want to view and then in the box 'Select Waterworks', choose 'Hanley Waterworks' (or whichever water system you want to view)?and click on 'GO'. Everytime the Town gets the water tested (normally weekly), Sask H20 publishes the resulting tests on their web page.
Dundurn Rural Water Utility
Solid Waste and Transfer Station
Garbage-Blue Bins & LORAAS Recycling:


Collection Schedule – 2023 Waste and Recycling Calendar 
– Ensure your cart is rolled out by 7 a.m. on your designated collection day.
– Containers with inappropriate materials, overweight or over-height will be bypassed by collection personnel.
– Regular collection on statutory holidays.
– Collection equipment requires clear, safe access to your cart. Do not place your container within 4 feet of buildings, vehicles, overhead and underground utilities; we are not responsible for any damage resulting from service provision.
-If you have any questions about your collection schedule call our office during regular business hours: 8am – 5pm Mon-Fri. 306-242-2300
YouTube video that shows the recycling process:
Recycling Process
Garbage Transfer Station
See: Amend Waste Disposal Agreement and Waste Rates
Where to recycle things: http://www.saskwastereduction.ca/
The Hanley landfill has been transferred from being a 'Landfill' to a 'Transfer Station' due to government regulations. Therefore, every item brought into the 'Transfer Station' must be transferred out (or burned in the clean or raw wood pit as supervised by the Town Foreman).
The
Hanley Transfer Station Fees
also explains the fees for the LORAAS bin and size limits, etc. A copy of the Transfer Station Permit may be viewed by clicking on:
Hanley Transfer Station Permit.
If the conditions as per our Permit are not followed as set out by the Government of Saskatchewan, then there is a very good likelihood that the Transfer Station may be shut down by Saskatchewan Ministry of Environment and residents will be unable to use the Transfer Station at all.
Hanley Transfer Station 'Summer Hours' as follows:
2023 Summer Hours starting Saturday May 6th
Open Saturdays – 10 am to 5 pm
Open Tuesdays – 5 pm to 9 pm
Open Thursdays – 5 pm to 9 pm
Hanley Transfer Station 'Winter Hours' as follows:
Saturday: 10:00 a.m. to 5:00 p.m.
Note: The Transfer Station has a tendency to get very muddy when it rains or the snow melts and as such, the agent manning the Station has the authority to close the Transfer Station down if he/she feels it is necessary to prevent people from getting stuck when entering the area.
Concerns regarding the policies of the Town of Hanley Transfer Station are to be directed to the Town Administrator or Councillors.